EXELIXI ZOIS scheduled a visit to the Acropolis museum as a part of its program aimed at ensuring access to cultural events to its beneficiaries.
The last month of the year began in the best possible way for EXELIXI ZOIS and the children of its program!
We all met at 11 am in the museum's entrance and went on to enjoy the famous exhibits that even more famous museums envy: the Parthenon's frieze, the Caryatids of the Eretchio, and all the famous sculptures of the golden age of Perikles and the ancient times.
The children were enchanted and marveled at the wonders around them.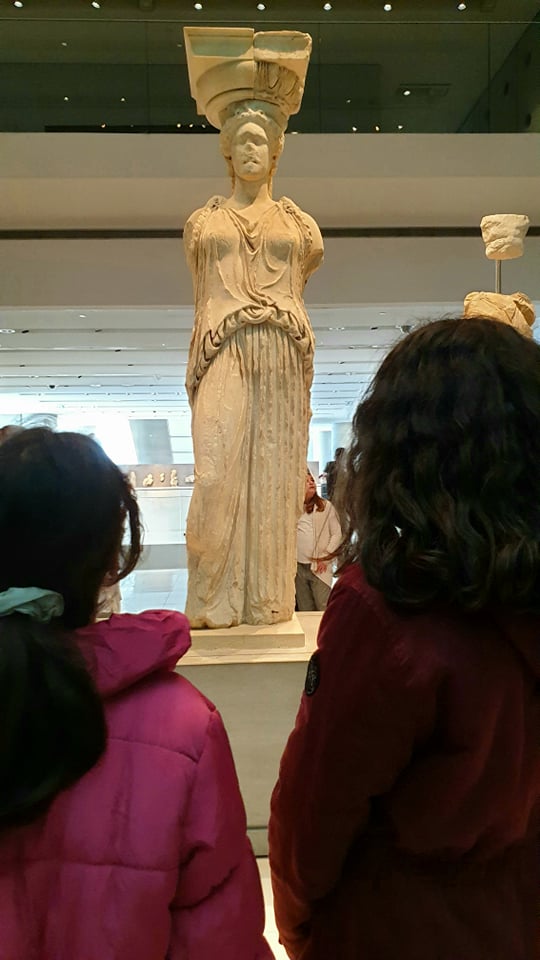 Starting off with the stories and myths that make up the story behind the Acropolis, we then moved on to the citizens' everyday life, their religious habits ,how they made decisions about their country-state seeing all these through finds of their homes and public places.
Because myths are not only made to be read but also to be depicted on ancient works of art!
We saw interesting parts of old temples and then through the Kores and the Kourous we stepped into the time of Pericles.The children had the chance to admire the Erechthio , the Propilaea, the temple of Niki and then to see the simulation of the Parthenon itself.
In total 27 children coming from SOS Vari village and "Saint Alexander" home for girls and Christodoulio Institution participated. These were accompanied by 8 escorts of the above-mentioned institutions and our team at EXELIXI ZOIS.
The tour lasted for approximately 2 hours and was held by the artist and author Mr. Vaggelis Pappas.
The tour is a part of the actions taken by EXELIXI ZOIS supported with a founding donation by the ISN (Stavros Niarchos Foundation).
The lunch box given to the children is a kind donation of 'Dipnosofistirion".
The NGO EXELIXI ZOIS was founded in March 2018 and is aimed at minors and adults of adolescent or post adolescent age, coming from closed child protection institutions. Our aim at EXELIXI ZOIS is to take care of young people aged 12-17 as well as care for those 18-25 who have left or are leaving institutional care. Our actions aim to ensure that the passage from one age group to another is done smoothly and that at the same time these young people have all the support, practical and psychological, to be able to claim a better future and face tomorrow with confidence.
ISN (The Stavros Niarchos Foundation) supports EXELIXI ZOIS
The founding of EXELIXI ZOIS was made possible with the valuable contribution of the ISN,The ISN with its founding donation supports the first steps of NGO EXELIXI ZOIS, and in particular actions aimed at educating, exercising ,assisting the cultural and social development as well as the psychological support of young people living in closed care institutions.